Detroit Medical Center Spring Hiring Events - Plant yourself at DMC… and Grow!
Up to $25K sign-on Bonus available for most RN positions, based on years of relevant experience. New grad sign-on bonuses, starting at $5K!
Whether you are a new graduate RN, or an experienced RN considering the next step of your career, the eight specialty and community hospitals of the Detroit Medical Center, a large academic medical center, is a place where you can grow throughout your career, in the direction that you choose! Here, you will be mentored by our Nursing leaders and designated career coaches giving you insights on career opportunities in-store for you across our system.
We currently have a variety of RN opportunities across our eight hospitals, including:
ICU/Stepdown

Medical/Surgical - Telemetry

Women's

EmergencyServices

Cath Lab

Operating Room

RN Case Manager

Float Pool
We invite you to join us as we host three in-person hiring events:
Interview with our nursing leaders

Tour our world-class facilities

Touch base with our career coaches

Same-day job offers and more!
Nursing students are welcome as interviews for Student Nurse Associate position will be available at the event as well!
Spring 2022 Nursing Hiring Events Details
March 15th | 3 p.m. to 6 p.m.
DMC Sinai-Grace Hospital
6071 Outer Dr W, Detroit, MI 48235
Enter through Schaefer Drive Main Entrance, park in Visitor Parking, and enter through Main Hospital Entrance
March 16th | 3 p.m. to 6 p.m.
DMC Huron Valley-Sinai Hospital
1 William Carls Dr, Commerce Charter Twp, MI 48382
Enter through the Garden Entrance and request direction to the event conference room area
March 22nd | 3 p.m. to 6 p.m.
Children's Hospital of Michigan, Detroit Receiving Hospital, Harper University Hospital and Rehabilitation Institute of Michigan sponsoring this event
Location: DMC Heart Hospital – 2nd Floor Lobby
311 Mack Avenue, Detroit, MI 48201
Park in Mack / Beaubien parking structure and cross 2nd floor bridge to Heart Hospital
INTRODUCING: New Nurse Graduate 12 Week Internship Program
Nurse Graduates hired to Internship Program

Select 3 units to begin orientation and rotate with a checklist for 2 weeks on each of the three units with the unit preceptor

Week 6 - Interview with the nurse manager of each of the three units for shift/unit opening

Once unit/shift selected, continue orientation on the selected unit for three weeks on day shift, rotate to nights for 2 weeks, and then to assigned shift for one week

Orientation ends after 12 weeks

During the 12 weeks, market education periodically provides group learning sessions for the graduate
Our Practice Environment
Care for patients with complex, specialized, and rare diagnoses

Work alongside top clinicians representing very specialty in a cross-disciplinary team

Participate in shared governance
Hear more from our staffs, why they choose to be a DMC RN!
Being a DMC RN means a career path with endless possibilities .Our culture is built on collaboration, compassion and commitment. We ensure a focus on our employees' professional advancement and personal growth.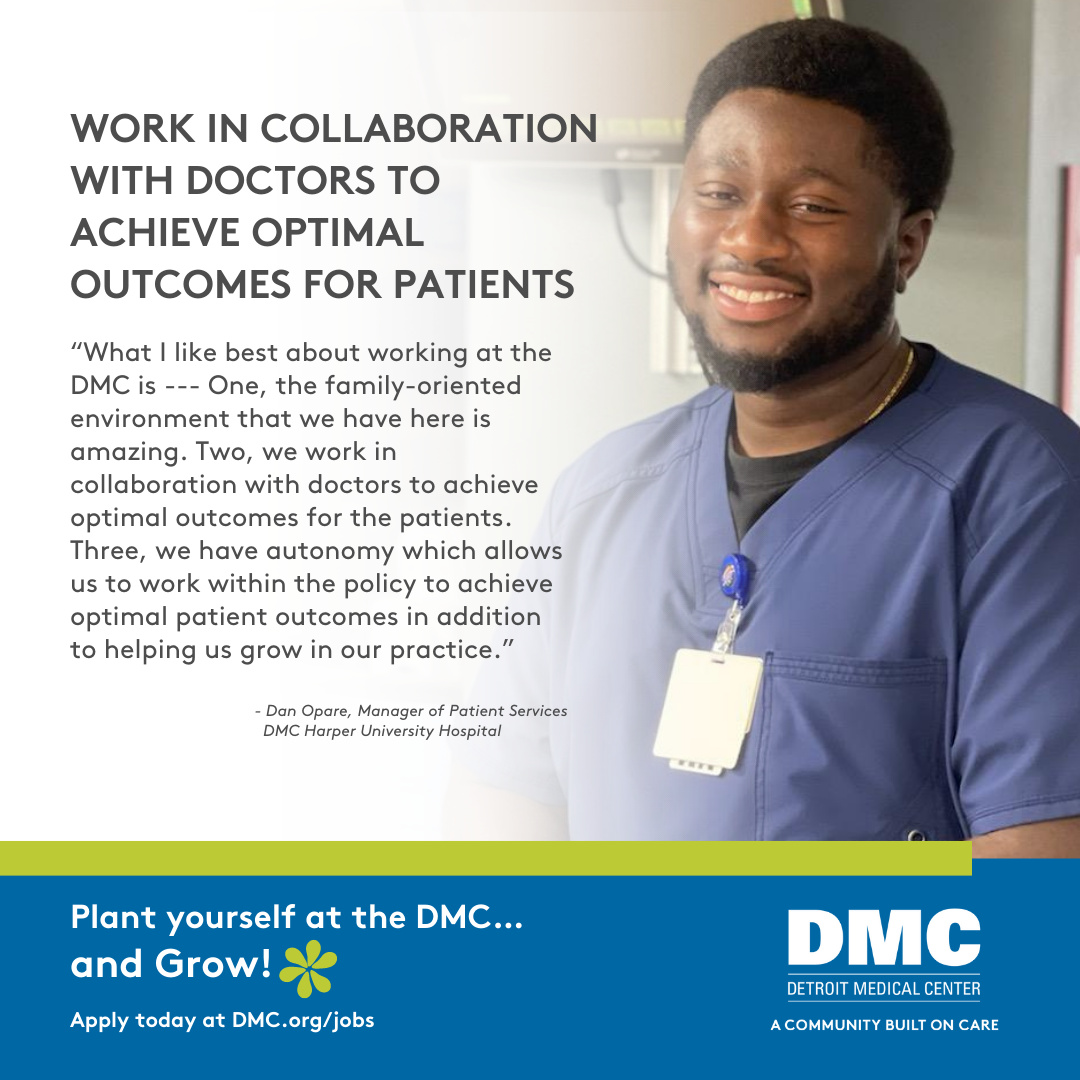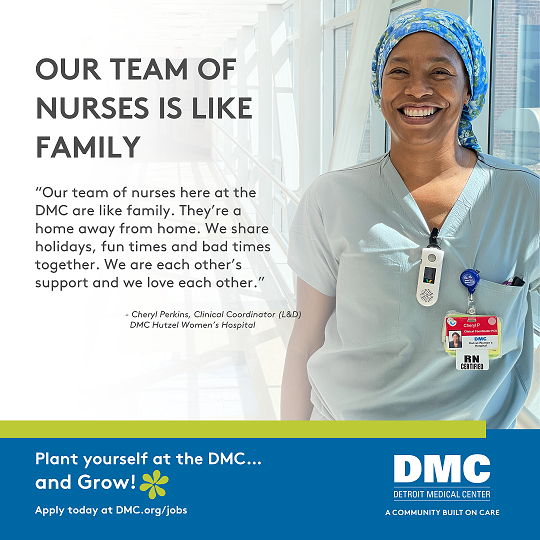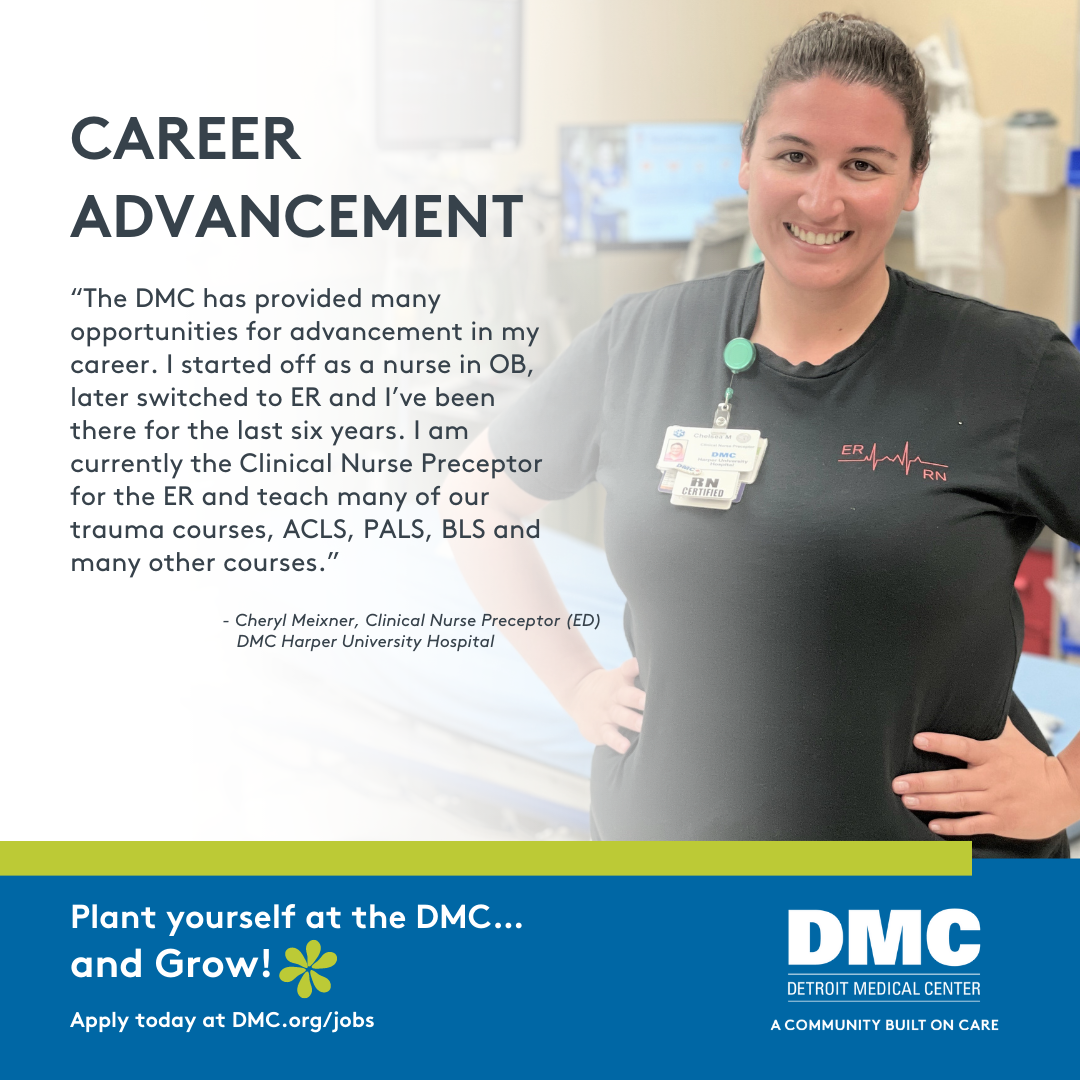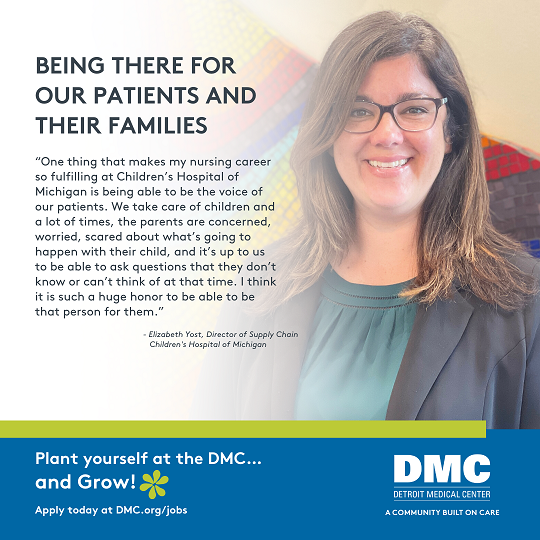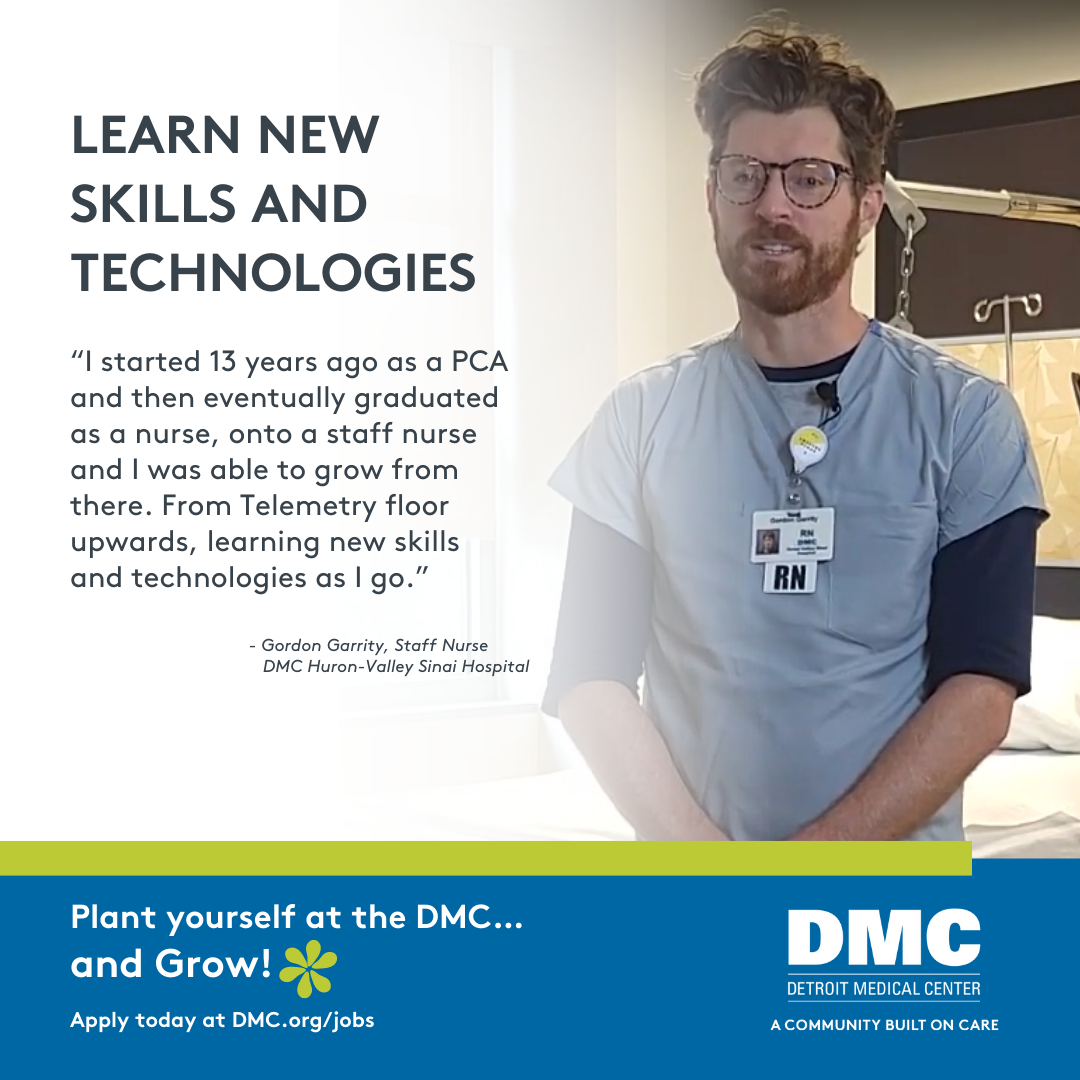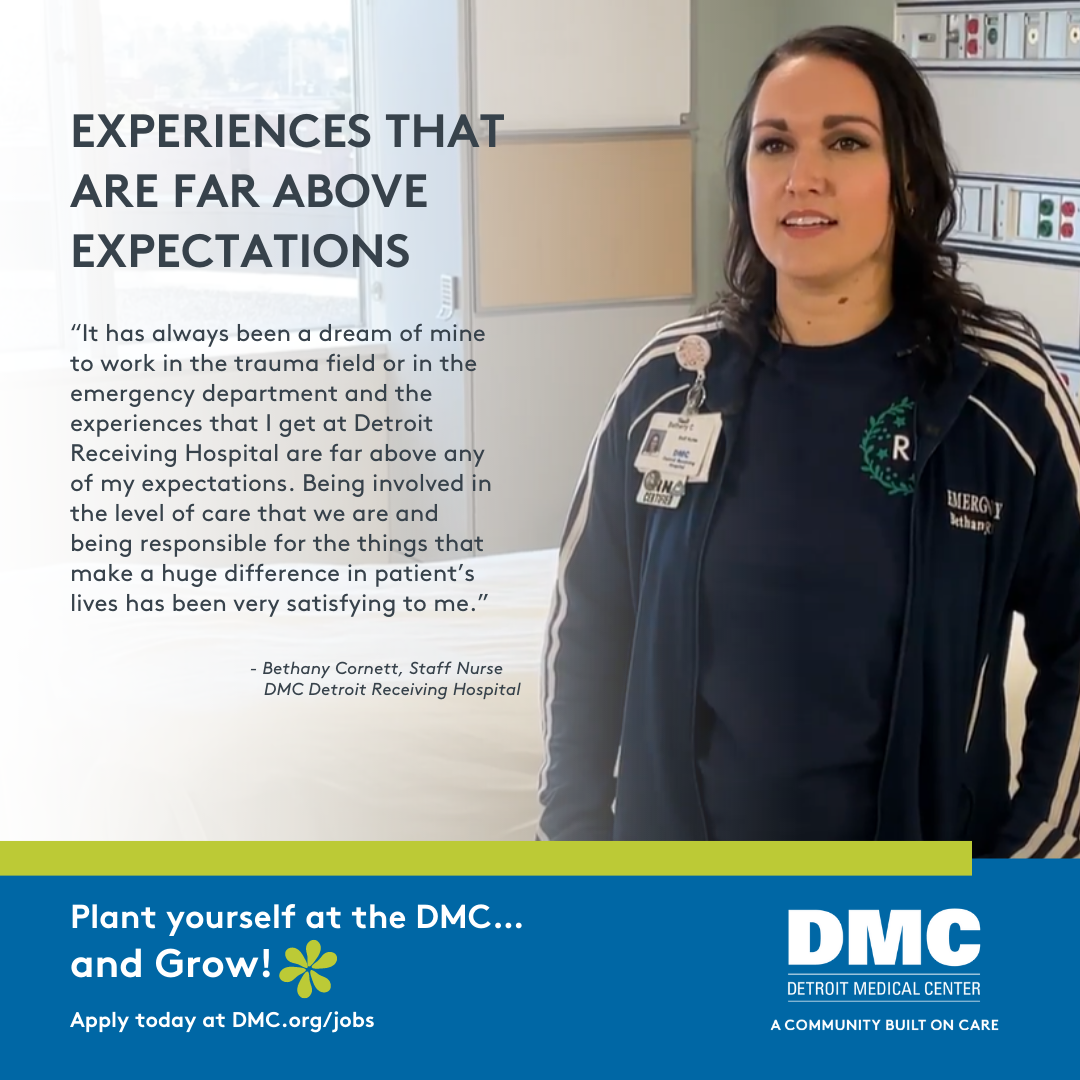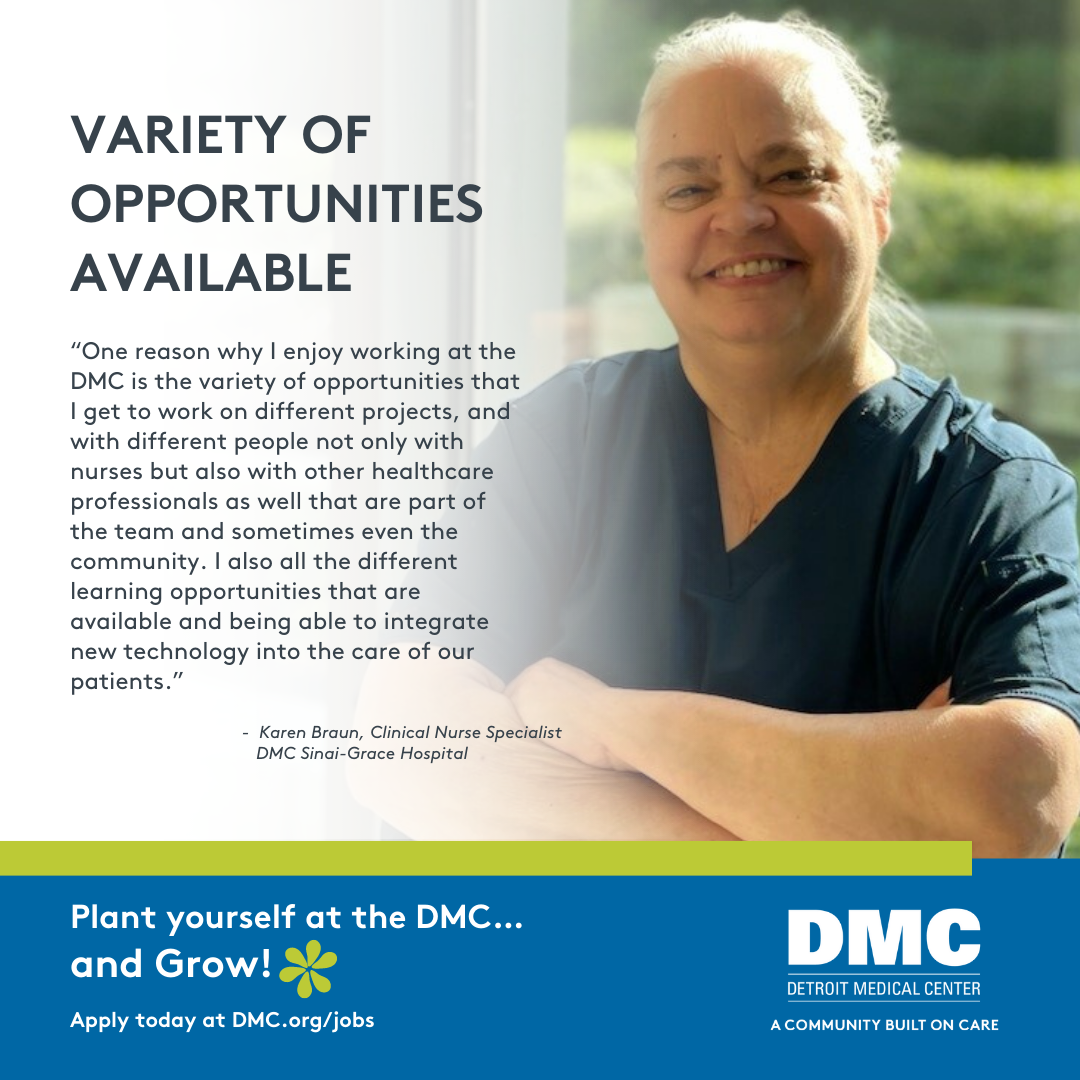 DMC provides a comprehensive and competitive benefits package. Visit www.dmc.org/jobs to explore our current openings, or for more information, contact Recruitment Manager Janet Hash at 313/578-2368.
Register by submitting your application TODAY to be booked for an interview immediately – or plan to attend our hiring events with a pre-booked interview.
We look forward to meeting you!