Manager Social Worker Days FT
Job ID: 2205037491-13 Date posted: 10/03/2023 Facility: DMC Sinai-Grace Hospital
Job Details
DMC Sinai-Grace Hospital is DMC's largest hospital, offering a comprehensive heart center, cancer care, gerontology, emergency medicine, obstetrics/gynecology and cosmetic services. Sinai-Grace's joint replacement program features a revolutionary minimally invasive knee and hip replacement surgery that attracts patients from all over the country. Sinai-Grace operates more than 21 outpatient care sites and ambulatory surgery centers throughout Wayne and Oakland Counties and is one of 10 hospitals in the nation to be awarded a Robert Wood Johnson Foundation grant to help set the standards of cardiac care for hospitals and physicians throughout the nation.
Summary Description
The individual in this position is responsible to facilitate care along a continuum through effective resource coordination to help patients achieve optimal health, access to care and appropriate utilization of resources, balanced with the patient's resources and right to self-determination. The individual in this position has overall responsibility to ensure staff assess patients for transition needs to promote timely throughput, safe discharge and prevent avoidable readmissions. This position integrates national standards for case management scope of services including:
Provides assistance to the Director of Case Management in the management of the department, but not limited to, hiring/training/managing staff, schedule coordination, analysis and reporting, interfacing, collaborating and working closely with the other departments

Utilization Management supporting appropriate use of resources

Transition Management promoting appropriate length of stay, readmission prevention and patient satisfaction
Care Coordination by demonstrating efficient throughput while assuring care is sequenced and at the appropriate level of care
Compliance with state and federal regulatory requirements including state psychiatric holds (Baker Act, 5150, etc.), TJC accreditation standards and Tenet policy

Provides education to physicians, patients, families and caregivers
POSITION SPECIFIC RESPONSIBILITIES:
Department Operations
Oversees an adequate number and skill mix of staff over seven days a week to serve the patient population and meet the goals of the department

Supports and manages staffing requests utilizing the Tenet Case Management staffing recommendations within budgetary guidelines

Plans and conducts regular departmental meetings with the Director to provide staff updates and ongoing education
Ensures new Case Management staff complete department orientation including review of Tenet Case Management and Compliance policies and Documentation training
Assists the Director of Case Management in the management of the department, but not limited to, hiring/training/managing staff, schedule coordination, analysis and reporting, interfacing, collaborating and working closely with the other departments
Monitors case management processes and staff productivity to ensure medical necessity reviews are completed timely and accurately, payer communications are sent and authorizations or denials documented and followed up, and that transition planning assessments are completed timely.
(30% daily, essential)
Utilization Management
Monitors the review process to ensure staff follow Tenet policy and process for appropriate patient status and level of care

Oversees submission of cases to Physician Advisor to ensure timely referral, follow up and documentation

Monitors the timely communication clinical data to payers to support admission, level of care, length of stay and authorization for post-acute services
Advocates for the patient and hospital with payers to secure appropriate payment for services rendered

Promotes prudent utilization of all resources (fiscal, human, environmental, equipment and services) by evaluating resources available to the patient and balancing cost and quality to assure optimal clinical and financial outcomes

Assists the Director in monitoring to ensure that CMS Follow-up Important Message (IM) and HINN letters are delivered and documented per federal regulations and Tenet policy.

Identifies and documents Avoidable Days using the data to address opportunities for improvement

Coordinates clinical care (medical necessity, appropriateness of care and resource utilization for admission, continued stay, discharge and post- acute care) compared to evidence-based practice, internal and external requirements.
(20% daily, essential)
Transition Management
Implements and monitors process to ensure that a transition plan assessment is completed within 24 hours of patient admission to identify and document the anticipated transition plan for patients

Ensures case management staff use electronic referral request process for patient placements

Monitors to ensure that patient preference & choice is documented per CMS regulations and Tenet policy

Monitors to ensure case management staff document in the Tenet Case Management documentation system to communicating information through clear, complete and concise documentation

Ensures staff are completing comprehensive assessments within 24 hours of patient admission to identify and document the anticipated transition plan for patients

Integrates key elements of patient assessment, patient choice and available resources to develop and implement a successful transition plan

Identifies patients at risk for readmission and applies appropriate intervention including risk assessment and referral to Social Work and/or Complex Case Review

Ensures all elements of the transition plan are implemented and communicated to the healthcare team, patient/family and post-acute providers

Ensures all Final Discharge Disposition Form are completed for Medicare beneficiaries per Tenet policy

Addresses and escalates variances in delays in patient care
(20% daily, essential)
Care Coordination
Participates and leads staff in effective daily TEMPO ®huddles
Ensures discharge plan is developed and referrals are placed by day 3 of stay

Monitors readiness for transition, overseeing coordination of care ensuring staff are proactive and prepared for huddles

Escalates issues to resolve barriers to that are not resolved timely on the nursing unit

Assists the Director in working with Nursing and hospital leadership to ensure Patient Care Conferences and Complex Case Review processes are in place to promote timely and appropriate throughput
May participates in daily bed management meeting to support timely and effective patient placement and transfer within the hospital

Monitors to ensures that patients have a plan of care that is clinically appropriate, consistent with patient preference & choice and available resources

Monitors to ensures consults, testing and procedures are sequenced to support clinical needs with timely and efficient care delivery

Ensures patient needs are communicated and that the healthcare team is mutually accountable to achieve the patient plan of care

Effectively collaborates with physicians, nurses, ancillary staff, payors, patients and families to achieve optimum clinical outcomes

Ensures the plan of care is clinically appropriate, consistent with patient preference & choice and available resources
(10% daily, essential)
Education
Provides education to staff and monitors staff performance on position expectations

Ensures and provides education to staff, patients, physicians and the healthcare team relevant to the

Effective progression of care,

Appropriate level of care, and

Safe and timely patient transition

Provides patient and healthcare team education regarding resources and benefits available to the patient along with the economic impact of care options

Ensures that education has been provided to the patient/family/caregiver by the healthcare team prior to discharge

Provides in-service education to Case Management Department on policy and key processes to achieve hospital and Tenet outcomes
(10% daily, essential)
Compliance
Ensures compliance with federal, state, and local regulations and accreditation requirements impacting case management scope of services

Adheres to department structure and staffing, policies and procedures to comply with the CMS Conditions of Participation and Tenet policies

Remains current with Tenet Case Management practices
Under general supervision and following established policies and procedures, performs diagnostic radiological exams utilizing appropriate imaging equipment. Verifies patient identity and reviews patient's medical record for appropriateness of exam or procedure. Interviews patient to obtain, verify or update medical history and assesses risk factors such as medications, pregnancy and/or psychological indicators. Explains procedure to patient, including side effects of pharmaceuticals administered, risks, benefits, alternatives and follow-up. Sets up equipment and acquires appropriate images as per script. Reviews images, makes initial observations, documents exceptions from established protocols and communicates data to radiologist. Recognizes and responds to medical emergencies as appropriate. Provides physician-prescribed post care instructions to patients. Participates in process improvement activities within radiology practice including but not limited to quality of care, patient flow, reject-repeat analysis and patient satisfaction. Provides imaging education to residents, student technologists and new employees. Able to take call/standby as required by the department
Qualifications:
Minimum Qualifications
1. Master's degree in Social Work from a college or university social work program approved by the Michigan Board of Social Work and accredited by the Council on Social Work Education.
2. Current license as a Licensed Master's Social Worker in the State of Michigan.
3. Three years of Social Work experience, preferably in a hospital setting. Previous experience with the targeted patient population is preferred.
4. One to two years supervisory/management experience is strongly preferred.
5. Accredited Case Manager (ACM) preferred.
6. Must complete and demonstrate competency in using the Tenet Case Management documentation system within 30 days of hire. Attendance at hospital and department orientation is required. Department orientation includes review and instruction regarding Tenet Case Management and Compliance policies, Transition Management, Utilization Management, and other topics specific to case management and social work services.
1. Analytical ability to create solutions to difficult administrative, technical or human situations, to anticipate and resolve a broad range of issues and concerns on multiple, sometimes unrelated, topics, to determine the need for process development and refinement, to independently evaluate situations and outline ramifications of multiple solutions or options, to recommend goals for a function/area and understand when intervention in current work processes must occur to ensure successful delivery of service.
2. Communication and/or interpersonal skills as well as written communication skills for contact with internal and external customers/stakeholders to obtain and interpret a variety of information based on knowledge of departmental practices, DMC policies and programs and specific technical and regulatory knowledge. Discretion must be exercised in deciding what and how to communicate; conflict resolution skills must be exercised where policy issues are concerned both within the functional area and interdepartmentally. Diplomacy, tact and listening skills are required. Ability to read, interpret and write technical materials.
3. Project management skills including the ability to define program, project, or process objectives, identify stakeholders and their interests, plan steps, coordinate and allocate human, technological and fiscal resources to accomplish goals and objectives in a resourceful yet timely manner.
4. Leadership skills including performance management skills, organizational skills, a demonstrated willingness to pursue leadership roles with increasing levels of accountability, comfort with decision-making responsibilities, coaching, teaching and counseling skills, and the ability to inspire and build confidence in others and to forge alliances and garner support. Ability to lead and coordinate activities of a diverse group of people in a fast paced environment, critical thinking and problem solving skills.
5. Teaching abilities to conduct educational programs for staff, patients, families and the community.
6. Ability to cope with stressful situations and manage multiple, sometimes conflicting, priorities.
7. Computer literacy.
Job:
Managers and Directors
Primary Location:
Detroit, Michigan
Facility:
DMC Sinai-Grace Hospital
2205037491
Employment practices will not be influenced or affected by an applicant's or employee's race, color, religion, sex (including pregnancy), national origin, age, disability, genetic information, sexual orientation, gender identity or expression, veteran status or any other legally protected status. Tenet will make reasonable accommodations for qualified individuals with disabilities unless doing so would result in an undue hardship.
Tenet participates in the E-Verify program. Follow the link below for additional information.
E-Verify: http://www.uscis.gov/e-verify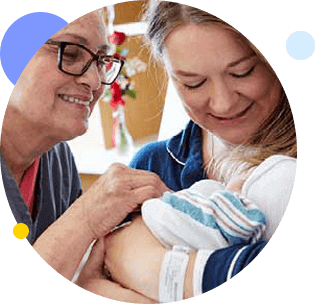 Tenet - A Community
Built on Care.
Across the country, the Tenet family includes 110,000 employees working in more than 65 hospitals and over 475 outpatient centers. We're all focused on delivering the right care in the right place at the right time.
At Tenet, the impact of our work spreads far and deep across the many dimensions of healthcare that we touch. Every day, our employees and physicians foster a compassionate environment for care and healing in the communities we serve. We take pride in what we do, we are passionate about our chosen path, and we take seriously the true privilege we have in serving others as a Community Built on Care.
Learn About Opportunities Across Tenet