Cath Lab Tech Per Diem Rotating
Job ID: 2205034695 Date posted: 09/14/2022 Facility: Carondelet St. Josephs Hospital
Job Details
Helping people feel better isn't just about the treatment we give – the relationships we create and the compassion we share are just as important. Carondelet hospitals make a difference in the lives of our communities and the lives of those we work alongside every day. We know it takes a special person to work in healthcare, and we are committed to providing our people with an enriching and rewarding environment.
From your first day, you'll be part of a group of some of the most talented nursing professionals united in a common goal to care for those in our community. Ready to work with awe-inspiring teammates who are dedicated to making a difference? Join us in going above and beyond.
Cath Lab Tech Per Diem Rotating Position Summary
The Special Procedures Technologist working in the Cardiac Cath lab demonstrates the knowledge and skills necessary to provide care appropriate to any age-related needs of adults and adult-geriatric patients. Under direction, assumes responsibility for patient specimen testing, quality control, quality improvement, and equipment maintenance. Assists physicians in diagnosing and treatment of patients within the Cardiac Cath Lab department. Performs a broad spectrum of radiographic procedures utilizing established radiation safety practices. Maintains thorough knowledge of radiation physics, anatomy and radiological techniques in the areas of fluoroscopy, interventional procedures, and surgical techniques. Understands and contributes to the vision/mission and goals of the department. Accountable for performing and providing quality customer service throughout CHN.
Responsibilities
Perform diagnostic imaging procedures and therapeutic vascular procedures following established radiation safety practices.
Greet patient with positive attitude, introduce self.
Explain procedure to patient prior to study.
Explain post-procedure care to patient.
Check for accuracy of ordered exams.
Check all armbands/D.O.B.
Collect pertinent patient history and document on requisition.
Document patient education on requisition/worksheet as appropriate.
Complete consent forms as indicated per procedure.
Complete pregnancy forms, oxygen transportation forms, medication reconciliation forms.
Demonstrate understanding of patient prep and protocols and comply with all departmental processes regarding patient care, filing, etc.
Maintain patient confidentiality as regulated by the HIPPA policy.
Complete all exams in accordance with department protocols.
Assess patient to assure exam completeness.
Assure patient safety:
Stretcher locked, bed rails when patient in bed/stretcher, patient transfer/slide boards, armband in place.
Perform I.V. using proper technique.
Demonstrate understanding and complete contrast form.
Ensure film history file is made available.
Organize work to assure optimal service and to meet deadlines.
Maintain proper oxygen therapy on patients who require oxygen.
Maintain skills required to change oxygen tank.
Must be able to use masks and nasal canula.
Adjust rate of O2 flow with mask/nasal canula according to written physician orders. Secure, transport, and secure e-cylinders.
Maintain clean work/patient care environment.
Communicate to manager/supervisor all procedure schedule changes.
Patient Care Age Specific Skills:
Pediatrics: Maintain safe environment, involve child in care and educate parents/caregivers at same time.
Adolescent: Maintain safe environment, involve patient in procedure. Allow time for and encourage questions. Explain all test and procedures thoroughly to patient before performing procedure. Maintain patient confidentiality with parental/caregiver involvement and education.
Adult: Maintain safe environment related to equipment, bed rails, and mental status. Involve patient in treatment and procedures. Explain rationale for all treatments and procedures, explaining to patient prior to performing procedure. Encourage participation in care.
Geriatric: Maintain safe environment related to equipment, bed rails, fall precautions, mobility needs, aspiration potential, and mental status. Involve patient in treatment and procedures. Allow patient to maintain control, involve patient in decision making and planning of participation in care. Assess and monitor for potential skin breakdown. Allow for possible hearing and/or vision lost, speaking in lower, louder tones as necessary. Provide all patient instructions slowly, speaking distinctly and assess for patient understanding.
Level 2 – Proficient (in addition to above duties)
Demonstrate knowledge and implement procedures from protocol book
Troubleshoot errors and perform quality assurance checks.
Level 3 – Subject Matter Expert (in addition to above duties)
Participate in quality improvement measures and monitoring within the department.
Assist in training, mentoring others in acquiring skills. Document clinical instruction.
THE CATH LAB TECH PER DIEM ROTATING CANDIDATE WILL POSSESS THE FOLLOWING EDUCATION, LICENSE/CERTIFICATIONS, AND EXPERIENCE.
Education
Required: High School Diploma or General Education Diploma (G.E.D.). Graduate of an accredited radiology program. Completion of IABP, EKG, and Hemodynamic Monitoring Classes within one year of employment in position.
Licensure
Required: ARRT-CRT
Certificates
Required: ACLS within one (1) year of employment. Basic Life Support (BLS) - American Heart Association.
Preferred: RCIS (Registered Cardiovascular Invasive Specialist)
Experience
Required: 1 year as a Radiology Technologist.
Preferred: 1 year experience in a Cardiac Catheterization Lab or Radiology Special Procedures (such as Angiography)
Skills
Required: Effective organizational skills to successfully multi-task; verbal and written communication skills that are clear; and, demonstrated knowledge of sterile technique.
Preferred: Bilingual (English/Spanish)
Knowledge
Required: Medical Terminology; Contrast Media, imaging and protocols. Requires good communication and organizational skills. Requires reasoning ability and good independent judgment. Requires working under stressful conditions and irregular hours. Requires working with frequent interruptions. Able to comprehend and interpret complex clinical subject matter related to area of expertise. Must demonstrate and maintain current knowledge and skills necessary to provide care/services to the age of the patients served in the hospital facility. Must also possess the ability to assess data and interpret the appropriate information needed to identify each patient's requirements relative to their specific needs.
Preferred: Cardiovascular Anatomy, Physiology and Pathophysiology; EKG identification of lethal arrhythmias, and electrophysiology.
Technology
Required: Basic computer skills
Other
Required: Understands the mission and vision of the hospital. Operates within the concept of patient focused care. Evolves into an effective team member. Must adhere to dress code; good grooming and personal hygiene habits; and strict adherence to attendance policies. Maintains knowledge of and conforms to hospital policies and procedures. Employee must maintain satisfactory level of knowledge and skill in Age Specific Competencies for the appropriate patient population.
Must be able to work variable shifts, weekends and/or holidays. Being scheduled and available for "On-Call" is required.
#LI-MB1
Employment practices will not be influenced or affected by an applicant's or employee's race, color, religion, sex (including pregnancy), national origin, age, disability, genetic information, sexual orientation, gender identity or expression, veteran status or any other legally protected status. Tenet will make reasonable accommodations for qualified individuals with disabilities unless doing so would result in an undue hardship.
Tenet participates in the E-Verify program. Follow the link below for additional information.
E-Verify: http://www.uscis.gov/e-verify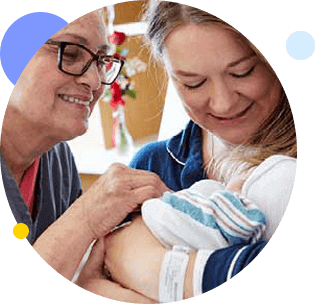 Tenet - A Community
Built on Care.
Across the country, the Tenet family includes 110,000 employees working in more than 65 hospitals and over 475 outpatient centers. We're all focused on delivering the right care in the right place at the right time.
At Tenet, the impact of our work spreads far and deep across the many dimensions of healthcare that we touch. Every day, our employees and physicians foster a compassionate environment for care and healing in the communities we serve. We take pride in what we do, we are passionate about our chosen path, and we take seriously the true privilege we have in serving others as a Community Built on Care.
Learn About Opportunities Across Tenet