Join other experts in your specialty of choice, at MetroWest Medical Center!
We invite you to meet our hiring leaders, tour our facilities, learn our benefits and other perks and explore opportunities available for you across MetroWest!
Featured Service Lines At Our Events:
Behavioral Health Services

Emergency Services

Telemetry – Medical / Surgical Acute Care Units – Novice RNs welcome!
Float Pool (at both events)
Event Details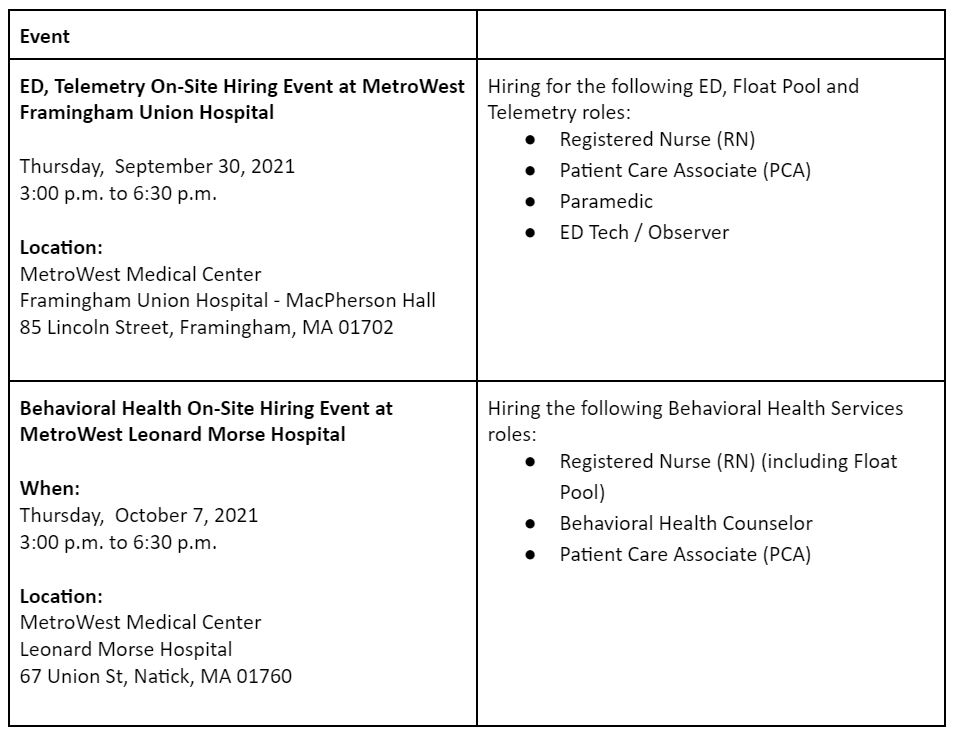 Sign-on bonuses available for many positions, including:
Registered Nurse (RN)

ED – Up to $10K sign-on bonus (based on number of regular hours)

Behavioral Health (unit-based and pool) – Up to $5K sign-on bonus (based on number of regular hours)

Behavioral Health Counselor – Up to $3K sign-on bonus (pro-rated for part-time)

Patient Care Associate (PCA)

Telemetry - $2K (pro-rated for part-time)

Behavioral Health Float Pool - $2K (pro-rated for part-time)

Behavioral Health Unit - $3k (pro-rated for part-time)
Variety of shifts and benefits statuses (including per diem) available
At MetroWest Medical Center we're always looking for talented individuals with a passion for quality care to join our team. MetroWest Medical Center is an exciting place to build a career, offering the opportunity to work in a team-oriented environment that values the important contributions of all of our staff members.
What makes working at MetroWest Medical Center so special?
Commitment to the highest standards of quality in care

Residency programs designed to give valuable experience and advance your career

Investment in the care experience for our patients and staff, including advanced treatments, tools and technology
About our Facilities
Our two hospitals, Framingham Union Hospital in Framingham and Leonard Morse Hospital in Natick, offer advanced diagnostic and treatment options for a wide range of healthcare needs. We have been serving our community for over 125 years, and we are committed to providing high quality, compassionate care, at a location close to home.
MetroWest Medical Center – Leonard Morse Hospital (Natick Campus), is a 103 bed Department of Mental Health licensed Inpatient Psychiatric Facility serving the behavioral health needs of the Metrowest and outlying regions of Massachusetts. The department is comprised of a Geriatric Psychiatry Treatment Unit (GTU), Child & Adolescent Treatment Unit (CDU), three Adult Psychiatric Units, and a Partial Hospital Program.
For inquiries, you may reach out to Recruiter Joanna Shumway at Joanna.shumway@mwmc.com, 508/650-7531.
Register below to RSVP. We look forward to meeting you!