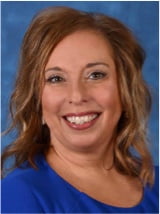 Welcome!
We are thrilled that you have taken the time to visit us! Your interest in the Detroit Medical Center Health System says you are ready to dream, discover and deliver. To transform health. To improve lives. And to elevate yourself and your profession.
For over 150 years, the DMC has served the city of Detroit and its surrounding communities with compassion for the underserved and a legacy of caring that is unmatched. Today, we remain steadfast and dedicated to providing medically excellent, evidence-based, compassionate care.
Whether you are studying to become a nurse or an experienced nurse looking for a new work atmosphere to elevate your career path, we're glad you're considering us. At the DMC, you have the opportunity to expand and explore the nursing profession through our 12-week Nurse Residency program for new graduates, or speak with a DMC career coach who will help guide you in making the best decisions to get you where you want to go and grow…all within the family of DMC hospitals. You name the specialty and we have it, from oncology, to organ transplant, medical and surgical intensive care, cardiology, women's services, neurosciences, stroke, burn, orthopaedics, pediactrics, traumatic brain injury and rehabilitation.
Lay down roots, and grow with the DMC!
Sheri Underwood
Market Chief Nursing Officer
Be a part of DMC's history of medical excellence and expertise.
A Community Built on
Commitment
At the DMC, you are surrounded by a team with the same commitment to deliver the right care, in the right place, at the right time, and to continually improve and advance the healthcare delivery system in the markets we serve. No matter where you choose to share your talents, you will be a part of a vast network with deeply-rooted core values.
8

Hospitals

12

Ambulatory Surgery and Urgent Care Facilities

135

Outpatient Centers

1.5M

Patient Care Encounters

11K

Employees
A Community Built on
Support
Why DMC?
Nursing is not just a job, it's a calling. As a DMC nurse, you will help deliver leading healthcare to patients with compassion.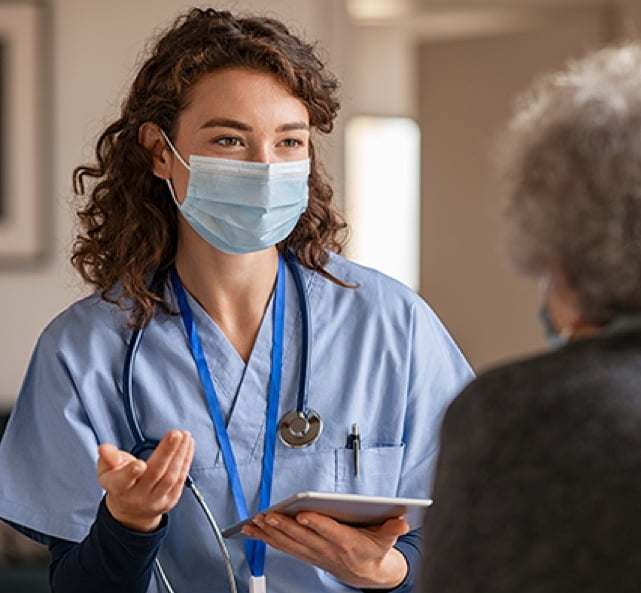 "I've been a DMC Emergency Department nurse for 17 years. I choose DMC because my nurse colleagues, physicians and the EMTs are like family to me."
– Stephane, BSN, RN
"I come to work every day, not feeling like I'm here to do a job, but here to make a difference – just like the Hutzel NICU made a difference in my life."
– Farzana, RN
"At the DMC, I've found my 'forever work family' and can fulfill my desire to make someone's life better today than it was yesterday."
– Sheri, MSN, BSN, RN
Nurse Residency Program for New Graduates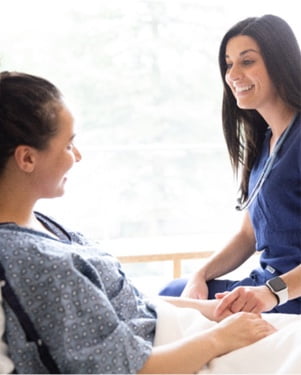 Uniquely designed to transition new graduate RNs to provide exceptional nursing care
Ongoing support for new graduate nurses through contact with a career coach
Experience in other areas outside of the assigned unit
Six month program with monthly classroom didactic learning and skill development combined with precepted shifts on assigned unit
Teaching strategies include lecture, case studies, demonstration, simulation and role-playing and journaling
Flexibility and Growth with Nursing Float Pool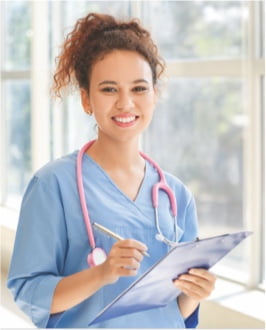 As a DMC float nurse you will have the opportunity to work in multiple specialty areas and treat different kinds of patients each day. You'll get exposure to many different disciplines while making a positive impact on the lives of a diverse patient population. You'll learn from committed healthcare professionals every single day.
As a float-pool nurse, you will do more than support other nursing units, you will serve as a collaborative consultant who shares lessons across teams and helps to advance the practice of nursing throughout our organization. You will be a patient advocate, championing patient rights while exceeding their expectations. You will benefit from interactions with patients, families, and colleagues with diverse cultural backgrounds.
You'll find that we support your personal and professional growth. Through our learning programs, tuition reimbursement and performance-improvement projects, you can achieve additional certifications and degrees while gaining the knowledge and experience needed to advance your nursing career. Join us and discover how compassionate caregivers, advanced technology and a ceaseless dedication to excellence are transforming patient care and nursing at Detroit Medical Center.
A Community Built on
Growth
Grow as a Nurse
Whether you are early in your career or you have been delivering quality patient care for more than 30 years – the DMC hospitals are the perfect place for nurses to participate in career-building opportunities such as learning a new specialty area or exploring leadership roles. We offer hands-on training and education to support you every step of the way.
Acute Care Units
Bariatric
Cardiac and Vascular
Clinical Decision Unit
General Surgery
Medical Surgical
Nephrology
Neuroscience
Orthopedic
Critical Care Units
Burn Care
Cardiology
Cardiothoracic
Intermediate Care
Medical
Neurosurgical
Neurotrauma
Surgical
Surgical Trauma
Behavioral Health
Emergency Department
Medical-Surgical Rehabilitation
Obstetrics and Gynecology
Pediatrics
Pulmonary Department
Spinal Cord Injury
Traumatic Brain Injury
A Community Built on
Recognition
As a DMC nurse, you join a community of passionate, talented nurses with a special gift to care for others. Many go beyond the scope of their daily job and help advocate for causes that matter. The work of a DMC nurse does not go unnoticed. DMC nurses have contributed to our hospitals being recognized year after year, locally and nationally, by leading assessors for quality, safety and expertise in overall care and in multiple specialties including Magnet recognition.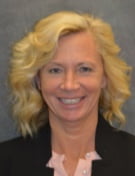 Amy Hamilton
CNO for DMC Huron Valley-Sinai-Hospital
Amy Hamilton is an innovative, compassionate and extremely dedicated leader. She has been instrumental in keeping staff engaged and safe, dreamt up innovative ideas to take care of COVID-19 patients and has been the glue that holds our inpatient departments together.
When we as a leadership team reflect on 2020 to date each one of us has independently stated that we couldn't have weathered the storm without Amy. March, April and May were hard months to get through. We were faced with challenges that we have not had to face in our healthcare careers. 2020 redefined the way in which we delivered care and pushed staff to the limits physically, mentally and emotionally.
Amy Hamilton was the bright light that lit the way for our front line, and for us as well. She navigated challenges with grace and grit and kept her teams going even when they thought they had nothing left to give. I realize that this can be seen as 'just doing her job' (though doing it very well) and yes, in a sense that is true, and I view Amy as an exceptional leader for these very reasons. That being said, Amy set the bar high and consistently went above and beyond to ensure our patients and staff were treated with dignity and respect. She showed a level of innovation and quick thinking that sets the tone for the way in which Huron Valley-Sinai Hospital would navigate the pandemic.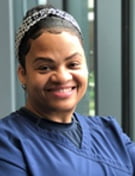 Danita is a recipient of the 2020 Tenet Heroes Hall of Fame award, Tenet's highest honor.
Danita has worked at Sinai-Grace for 24 years and has proven to be an incredible leader providing compassionate and quality care. Danita works the midnight shift by choice because she finds purpose in supporting patients when they tend to feel the most isolated and vulnerable. Her focus on care and compassion is what she offers to everyone around her. From purchasing personal care items for patients who don't have the means to buy them, to organizing a donation fund to help support a co-worker who had lost her husband to COVID. Danita is also a source of positive encouragement outside of the hospital in her community especially as it pertains to taking health precautions during COVID. She is a shining example of the community built on care at Sinai-Grace Hospital and the pride our team has in serving this community.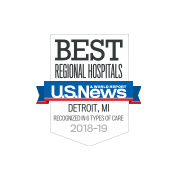 Meet some
Team Members